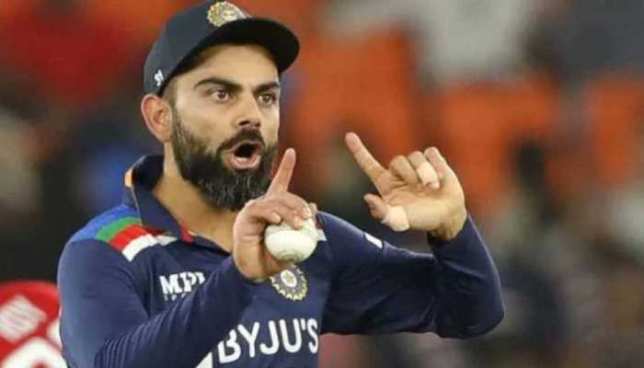 Virat Kohli has announced to quit the captaincy of T20 format. However, he will continue to be the captain of the ODI and Test teams. Kohli has given this information by tweeting on 16 September 2021. For a long time, there was talk about his captaincy.
A few days ago it was reported that he would step down from the captaincy of this format after the end of the T20 World Cup. He gave this information through social media in the evening on 16 September. Team India captain Virat Kohli has announced through Twitter that he will step down from the captaincy of the Indian T20 team just after the T20 World Cup 2021.
Know the reason
Virat Kohli has taken this step because of the ever increasing pressure on him. After leaving the captaincy of at least one format, the pressure will be removed from him and he will also be able to focus on his batting properly.
🇮🇳 ❤️ pic.twitter.com/Ds7okjhj9J

— Virat Kohli (@imVkohli)
September 16, 2021
Rohit Sharma can be the captain
After Virat left the captaincy of the T20 team, it has now been decided that Rohit Sharma will be given the command of the team in this format. In place of Virat, for a long time, there was a demand to make him the captain in this format. Rohit has made Mumbai Indians champions in IPL five times under his captaincy and he has a lot of captaincy experience.
What did Virat Kohli say?
Virat Kohli has issued a statement on leaving the captaincy from the T20 format, saying that I have been fortunate to not only represent India, but to lead the Indian cricket team to the best of my ability. I thank all those who supported me in my journey as the captain of the Indian cricket team. I couldn't have done it without them. Team players, support staff, selection committee, my coach and every Indian who prayed for us to win.
Virat's record in T20 International
Under the captaincy of Virat in T20 International, the Indian team has played 45 matches so far, out of which the team has won 29, while the team has to face defeat in 14. The result of two matches has not come.
When did Virat Kohli take over the captaincy?
Virat Kohli took over the captaincy of the Indian T20 team in 2017 after Mahendra Singh Dhoni. Kohli has so far captained India in 45 T20 Internationals. Out of this, India has won 27, lost 14 and tied two matches. He has scored 1502 T20 runs as captain at an average of 48.45. His strike rate was 143.18. It includes 12 half-centuries. His highest score is 94.