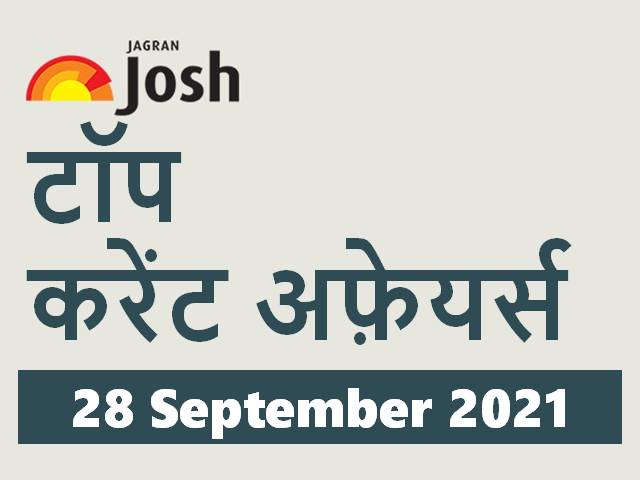 Top Current Affairs Hindi: Today's top current affairs have been included under Top Hindi Current Affairs, 28 September 2021, which mainly includes Akash missile, drone airspace and corona virus etc.
Aakash Prime is modern and better than the existing Aakash system in many ways. The missile intercepted an unmanned dummy celestial target during the test and destroyed it with precise aim. Defense Minister Rajnath Singh has congratulated all the people associated with it including DRDO, Army, Air Force for the successful test of Akash Prime missile.
Akash Prime is equipped with indigenously advanced accuracy equipment as compared to the existing Akash missile system. Apart from this, its performance is dependable even in low temperature at high altitude. The flight test has been done by modifying the ground system of the existing Akash missile.
The Drone Airspace Map is a follow-up to the Liberalized Drone Rules, 2021 issued on August 25, 2021, the Production Linked Incentive (PLI) Scheme for Drones issued on September 15, and the Geospatial Data Guidelines announced on February 15 .
Drone Airspace Map is an interactive map of India demarcating green, red and yellow areas across the country. This drone airspace map may also be modified from time to time by the authorized entities.
The main purpose of celebrating this day is to make people aware about the prevention of rabies. Rabies is an infection caused by the bite of some animals. According to the World Health Organization (WHO), about 20,000 people die from rabies every year. World Rabies Day was first celebrated on 28 September 2007.
The purpose of celebrating World Rabies Day is to spread awareness on rabies and promote disease prevention. Rabies is a viral disease that causes inflammation of the brain in humans and animals. This is an important day for people to accept the terror of the disease.
Foreign Secretary Harsh Vardhan Shringla in his address at the UN Security Council on the topic 'Non-proliferation of weapons of mass destruction: Comprehensive Nuclear Test Ban Treaty' said that India has played a leading role in global efforts towards nuclear disarmament.
Foreign Secretary Shringla said India had participated in the talks on a proposal to ban arms under the Comprehensive Nuclear Test Ban Treaty (CTBT). But India cannot be a part of this treaty, because this treaty does not address the original concerns identified by India.
On 28 September 2021, party chief Navjot Sidhu resigned from his post after 72 days in the midst of the ongoing turmoil in the Punjab Congress. A few days back, Punjab Chief Minister Captain Amarinder Singh had resigned from his post. After this, Charanjit Channi was made the Chief Minister. Since then Navjot Sidhu was being accused of being a super CM.
Navjot Singh Sidhu's resignation is also shocking because the Congress high command had chosen him for the post of state president. Also, due to a dispute with him, Captain Amarinder Singh had to leave his post. The upheaval in the politics of Punjab continues.